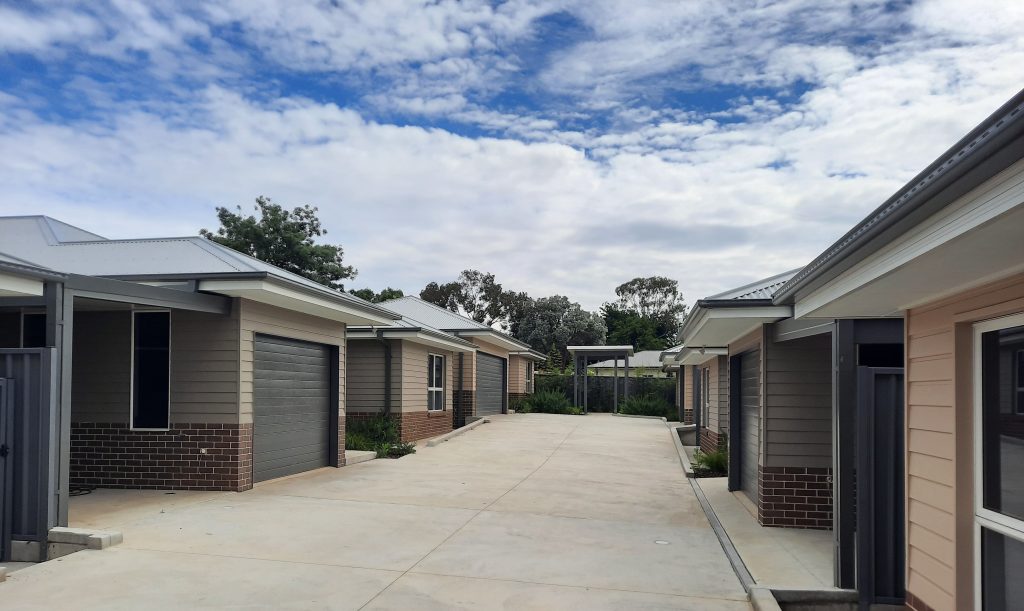 Abbeyfield provides drop-in support as needed, with a dedicated caretaker available on the premises.
In addition to drop-in support, residents can request further support tailored to their specific needs.
All staff members have undergone thorough training in delivering person-centered supports, ensuring a high level of care and understanding for each individual resident.
Abbeyfield is an exclusive gated community comprising six 2-bedroom shared units.
Each unit is designed with an ensuite for one bedroom, as well as a separate bathroom and toilet exclusively allocated to the other bedroom. This setup ensures privacy and convenience for all residents.
Additionally, each unit boasts a spacious shared dining area, a fully-equipped kitchen, and a comfortable lounge area, creating a welcoming and communal living space for all the residents to enjoy together.
The rooms in Abbeyfield are of modest size, featuring a built-in wardrobe to maximize storage space. Each room also has the added convenience of a separate dedicated bathroom and toilet for the resident's exclusive use.
Furthermore, the room is carpeted, providing a warm and comfortable feel. Residents have the flexibility to furnish the room according to their personal preferences, as it comes unfurnished, allowing them to create a space that truly feels like home.
Current Tenant Demographics
The current tenants at Abbeyfield comprise of a mix of both males and females aged between 19 to 60 years old.
One of the highlights of living at Abbeyfield is the vibrant social atmosphere, as the tenants enjoy coming together and engaging in various social activities.
This vacancy is particularly well-suited for individuals with low to mild disabilities who may benefit from occasional drop-in support. Abbeyfield aims to provide a welcoming and inclusive environment, catering to the specific needs of each resident while fostering a sense of community and independence.
Factors to consider if you are interested in applying:
The applicant is under 60 years of age.

The house is not suitable for people with high intellectual and physical disabilities.

The applicant is on disability support pension to pay rent.

The applicant is prepared to sign (or for a representative to sign) a Residential Agreement.
Complete and submit the form below:
General Enquiry - Accommodation
Book a tour of the property
If you are interested in doing a tour of this vacancy, please complete and submit the form below:
If you are interested in this vacancy, please click here to fill out our Intake form and attach in the form below: