12 January 2022
Good afternoon,
Following an increase in positive cases across New South Wales and Victoria, please find below the updated COVID-19 information in line with ongoing advice from the NSW Department of Health (correct at the time of this message).
Please note, Government advice and information regarding COVID-19 testing and isolation requirements continue to change daily. As such, I strongly encourage all staff to visit the NSW Department of Health website, each day, to review the latest updated guidelines on self-isolation and testing. https://www.health.nsw.gov.au/Infectious/factsheets/Pages/self-isolation-covid-and-close.aspx.
There have been recent changes in relation to:
COVID-19 Testing.
Return to Work Plans.
Accommodation.
Visitors.
Available COVID-19 Tests 
There are two types of COVID-19 tests available:
Rapid Antigen Tests (RAT) – can detect COVID-19 even before you develop symptoms and can provide a result within 10 to 20 minutes. You can do the test at home or at the workplace. A medical professional is not required.
Polymerase Chain Reaction (PCR) Tests – conducted by health professionals at testing clinics. Highly accurate for detecting an active infection of COVID-19.
Reporting Positive RAT results 
From 12 January, you must report a positive rapid antigen test result:
If you have tested positive with a RAT since 1 January 2022.
Within 24 hours of getting the result.
Every time you get a positive result.
People who fail to register a positive rapid antigen test result on the Service NSW application will be fined $1000. There will be a grace period of one week before fines are enforced from 19 January 2022.
If you have tested positive and reported your result, you can:
Quickly understand your relative level of risk based on your personal circumstances.
Access support services available from NSW Health.
Access financial support, such as the Pandemic Disaster Leave Payment.
If you test positive on a rapid antigen test you may be a confirmed case if: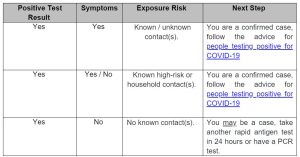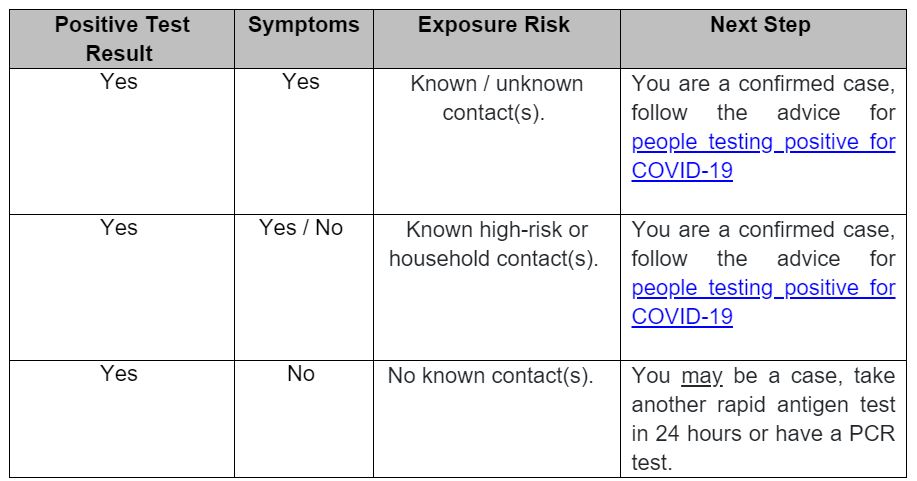 You do not need to have your rapid antigen test confirmed with a PCR test unless you are:
Pregnant (>20 weeks gestation).
Aboriginal / Torres Strait Islander.
Unvaccinated (16 years and over).
Immunosuppressed.
A worker, resident, patient, or client in a high-risk setting where there is not a current confirmed outbreak. High-risk settings include healthcare, aged care, disability care, and correctional facilities.
Asked by a registered medical practitioner.
If you are having difficulty or experiencing a delay in accessing a PCR test, you should call the NSW Health COVID-19 Care at Home Support Line on 1800 960 933.
You do not need to register if you've had:
A negative or invalid RAT result.
A positive PCR test in the 28 days before your positive rapid antigen test.
Click here https://apply.service.nsw.gov.au/register-positive-rapid-antigen-test-result to register your positive test.
Anyone with COVID-19 symptoms (and close contacts) should attend a state clinic for free testing and not go to a pharmacy to receive a rapid antigen test.
Visit https://www.nsw.gov.au/covid-19/stay-safe/testing/how-testing-works/rapid-antigen-self-tests-for-community  for more information.
To find availability of RATs in your area, visit https://findarat.com.au/
Face Masks 
Under the Public Health (COVID-19 Additional Restrictions for Delta Outbreak) Order (No 2) and Public Health (COVID-19 Mandatory Face Coverings) Order (No 3) 2021 masks must be worn in NSW in all indoor areas other than a person's home. This includes waiting for or using public transport. Masks must also be worn in all outdoor places including on the street or in a park.
A staff member or visitor may remove their mask:
While communicating with another person who is deaf or hard of hearing.
If wearing a mask creates a risk to health and safety.
Where clear enunciation or visibility of your mouth is essential.
When the removal of a face mask is necessary for the provision of a good or service.
A reminder that it is still compulsory for staff and visitors at Mercy Connect to wear masks whilst:
Working in Corporate Offices.
Attending Day Program (indoor) activities.
Attending Participant (indoor) interactions.
Providing direct support to our participants in Accommodation settings.
Masks are strongly encouraged in settings where you cannot socially distance. I strongly urge all staff to continue practising the 1.5m social distancing rules, wearing appropriate PPE and maintaining hygiene protocols and practices.
If a person cannot wear a face mask because of a disability, physical or mental health illness or condition, they must carry either:
a valid medical certificate or letter signed by a registered health practitioner (such as a doctor) or a registered NDIS provider or
a statutory declaration.
Vaccine Boosters 
People who are double vaccinated are eligible for a COVID-19 booster dose if:
you are 18 years and older, and
have had your second dose of your primary dose course of COVID-19 vaccination at least 5 months ago.
Visitors 
The above guidelines similarly apply to all visitors at Mercy Connect's facilities.
Accommodation residences:
Two visitors aged 12 years and over plus 2 visitors under 12 years per resident per day.
All visitors aged 12 years and over should be fully vaccinated (unless in exceptional circumstances for visiting an RDCF). https://www.health.nsw.gov.au/Infectious/covid-19/Pages/RDCF-more-information.aspx . Visitors should get a booster dose as soon as they are eligible for one and have a negative rapid antigen test (RAT) prior to the visit.
All visitors (Accommodation and Corporate Offices) aged 16 years and over must be fully vaccinated (or have a valid medical exemption).
All visitors must have a valid proof of vaccination or a valid medical exemption which needs to be sighted before being permitted into Accommodation and Corporate Office areas.
All visitors must complete the Mercy Connect 'COVID-19 Declaration' form prior to entering our premises. Please note, this form is regularly updated to meet the current requirements.  Please access the current version via your Team Leader or Reception. All completed forms must be provided to Debbie White at reception@mercyconnect.org.au.
Accommodation 
Residents are permitted to leave Mercy Connect owned / operated accommodation to exercise, for recreational activities or to attend small family gatherings provided that they adhere to the restrictions within the  Public Health (COVID-19 General) Order 2021 (the Order).
Where a RAT is available, residents who leave the facility to attend a family gathering should, on return, be supported to have a RAT on days 2, 4 and 7 after they return. Should RAT testing not be available, continue to follow infection prevention strategies. If they develop any signs or symptoms of COVID-19 they should immediately be isolated and have a PCR test.
Residents should not leave the facility if they have COVID-19 symptoms until they have had a RAT or PCR test and have received a negative result.
There are directions in the Order relating to vaccination requirements including that all people aged 16 years and over must be fully vaccinated to visit:
hospitality venues such as a café or restaurant,
cinemas,
group classes and activities at recreation facilities,
retail outlets (not including essential services such as a supermarket or pharmacy).
Residents must wear a mask at indoor venues and when on public transport.
Residents must be provided with appropriate personal protective equipment, infection control and mask wearing advice if they need to leave the facility.
QR Code 
All staff (and approved external visitors) must continue to check-in using the Service NSW QR code, which is located at all Mercy Connect locations.
Mercy Connect family communications are also available on the Mercy Connect website.
Please continue to be vigilant and mindful of the above requirements and seek further advice from your Manager and the Government Health sites for further clarification.
If you have any concerns or questions, please contact us on 02 60433 500 or enquiries@mercyconnect.org.au.
Together we grow.
Trent Dean                                                               
Chief Executive Officer