Good afternoon,  
Please be aware that each community where Mercy Connect provides services is experiencing increased numbers of positive COVID-19 cases. Our Central West Team has witnessed high case numbers over the past few weeks, and now our Albury-Wodonga community is responding to a similar situation. We are very aware of the effect that this is having on staff and participants (including families / guardians), with our staff numbers also being impacted due to increased exposure sites. 
However, despite this, Mercy Connect has overseen a smooth transition to introducing mandatory COVID-19 vaccination for all our staff, in line with the recent NSW Public Health Order. This has been further supported by everyone's continued adherence to social distancing, PPE and hygiene protocols, which helps to reduce the risk of infection within our Mercy Community. I am extremely grateful for everyone's positive contributions as we continue to provide a safe work environment. 
Please find further information for all staff and participants during these concerning times, including helpful reminders on how we can each ensure that Mercy Connect remains a safe place for everyone. 
Mandatory Vaccination 
Thank you to all staff who have responded so positively to ensure Mercy Connect's current, and ongoing, compliance with the NSW Public Health Order. 
For those who are yet to receive their second dose, once completed please send evidence of your vaccination by Monday 29 November 2021 to: 
Rochelle Taylor, Payroll Officer  
rochelle.taylor@mercyconnect.org.au  
30 Bottlebrush St 
Thurgoona NSW 2640. 
Vaccination Evidence 
The following documents are acceptable vaccination evidence: 
a medical contraindication certificate or

 
a medical clearance form.

 
Casual / Close Contacts and Self-Isolation  
A close contact is someone who:  
Is likely to have come into contact with a person who has COVID-19 and

 

 

Is at risk of developing COVID-19.

 

 
A casual contact is someone who has been in the same general area as someone who has tested positive for the coronavirus while infectious. 
There are several ways you may find out you are a close or casual contact, including:  
A text or call from NSW Health or the Department of Education.

 

 

A notification by your workplace or other organisation (such as school, university or childcare centre).

 

 

Looking at 

COVID-19 case locations

 

to see if you have visited an exposure site.

 

You see a location you have been to on the 

case locations webpage

. 

 
Self-isolation periods and testing requirements differ for close contacts based on their exposure and vaccination status. You may need to follow different advice if you are a household contact or another type of close contact. 
For more information on close contacts visit: https://www.health.nsw.gov.au/Infectious/factsheets/Pages/advice-for-contacts.aspx  
Face Masks 
As a provider of Day Program activities, and Residential Disability Care Facilities (accommodation / housing), Mercy Connect must comply with relevant NSW disability-specific requirements, found here https://www.health.nsw.gov.au/Infectious/covid-19/Pages/disability-support.aspx and here https://www.health.nsw.gov.au/Infectious/covid-19/Pages/disability-latest-advice.aspx. 
Given the high volume of daily interactions between participants / frontline staff and our office / administration staff, face masks will continue to be worn by all staff whilst working in Mercy Connect administration / office settings until further notice. 
You can remove your face mask if you are:  
communicating with another person who is deaf or hard of hearing

 

at work, and

 
the nature of the work makes the wearing of a fitted face-covering risk to the person's, or another persons' health and safety,

 

where clear enunciation or visibility of your mouth is essential

 

where the work is in an indoor area and no other person is in the area

 
asked to remove your mask for identity purposes

 

in an emergency situation

 

providing goods and services and you need to remove your mask to provide those goods or services properly

 

doing exercise except in an indoor area as part of a gym class

 

at a correctional centre, place of custody, or hospital

 
a resident at an aged care facility

 

a guest in a hotel/motel room and in your room 

 

in the process of getting married

 

working alone in an office (until another person enters).

 
You need to wear your face mask again as soon as the reason for taking it off has ended.
Practice Good Hygiene 
Everyone, even when well, can help to slow the spread of COVID-19.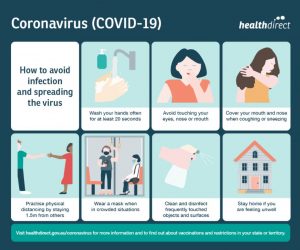 Taking care of your Mental Health during COVID-19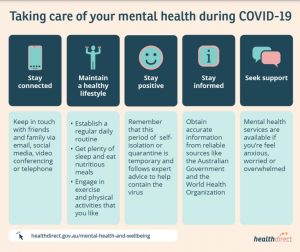 Visitors 
Accommodation residencies:

 
Two people (aged 12 years and over) per day will be permitted to visit a participant in our accommodation facilities. To receive a visitor a resident must be fully vaccinated.

 
All visitors (Accommodation and Corporate Offices) aged 16 years and over must be fully vaccinated (or have a medical exemption).

 

All visitors must have proof of vaccination or a medical exemption which needs to be sighted 

before being permitted

 into the Accommodation and Corporate Office areas.

 

All visitors must complete the Mercy Connect 'COVID-19 Declaration' form prior to entering our premises. All completed forms must be provided to Debbie White at 

reception@mercyconnect.org.au

.

 
 QR Code 
All staff (and approved external visitors) must continue to check-in using the Service NSW QR code, which is located at all Mercy Connect locations. 
Together we grow.  
Trent Dean  
Chief Executive Officer