Good afternoon,
Following an increase in positive COVID-19 cases within our Albury Wodonga and Central West communities, the following decisions will take effect immediately, in order to better maintain the health and safety of our participants and staff.
Day Program:
All Mercy Connect Day Programs, across all sites, will remain closed for two (2) weeks. A decision whether (or not) to recommence Day Program activities will be made at the end of the two week closure. It is likely that all Day Program staff will continue to work a 10am-3pm shift from a shared / group home, instead of their usual place of work, or (where approved and appropriate) request to take annual leave during this time.
Accommodation:
Mercy Connect owned / managed homes will be closed to the public until further notice. This includes, but is not limited to, family members / carers, external contractors and suppliers. Exceptions to this directive will be at the discretion of the CEO Office and Executive Leader – Clinical Services.
Participants will not be permitted to attend any external Day Program facilities / activities during this time, with Day Program activities only to be offered within the Mercy Connect owned / operated home.
Personal Protective Equipment (PPE):
All Staff are required to wear full PPE (gloves, gown, mask, and face-shield) in all accommodation settings (including Community Outreach staff).
Mercy Connect is currently awaiting an order of N95 grade face masks for staff use (where clinically indicated) and has secured, where possible, a limited amount for immediate use. However, until this latest order arrives, staff must continue wearing a surgical mask (in conjunction with any other required PPE, as necessary).
However, to further increase the effectiveness of surgical masks, staff can 'double mask' (layer their masks) by wearing a disposable mask underneath a cloth mask. Please note the cloth mask should push the edges of the disposable mask against your face.
This is best illustrated here: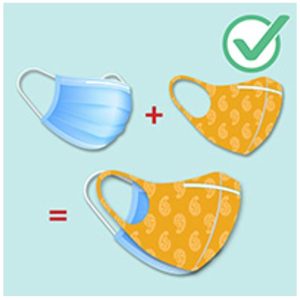 For further advice on effective face mask wearing, please refer to the following site:
https://www.cdc.gov/coronavirus/2019-ncov/your-health/effective-masks.html
Free Rapid Antigen Tests (RATs):
Concessional access to RATs will commence on 24 January 2022, which will permit concession holders (including all eligible participants) to receive ten (10) RAT units, in total, over three (3) months with a maximum of five (5) a month. Participants (with staff, where required) will need to attend their local pharmacy, present their relevant concession card, and then will receive their allocated RAT units.
Thousands more people will now be allowed to return to work if they are a close contact of a positive COVID-19 case, with national cabinet today (13 January 2022) agreeing to expand which workers should be exempt from isolation rules. Under the relaxed rules, some workers who are a close contact of a positive COVID case do not have to isolate if they return a negative rapid antigen test result.
This will now include all healthcare and support workers.
The changes are designed to help ease the pressure on workforces and supply chains which have been under increased strain as infections have skyrocketed and the number of people sent into isolation as close contacts has increased.
You are a close contact if you:
live in the same house as someone who tests positive
spent 4 hours or longer with someone in a home, or health or aged care environment
are determined as one by your state or territory health department.
If you are a close contact of someone who has COVID-19 you must isolate for 7 days (10 days in South Australia) from the last time you were in contact with that person.
If you have symptoms you should visit your nearest testing clinic as soon as possible.
If you have no symptoms you should take a rapid antigen test at home.
For further advice if you have COVID-19 or are a close contact, please refer to the following site: https://www.health.gov.au/health-alerts/covid-19/testing-positive#close-contacts
As always, I greatly appreciate everyone's continued hard work and compassionate care as we continue to support our participants, and each other, through this very challenging period of time.
If you have any concerns or questions, please contact us on 02 60433 500 or enquiries@mercyconnect.org.au.
Together we grow.
Trent Dean                                                               
Chief Executive Officer