Monday 17 January 2022
As has been heavily reported in the media, there continues to be an increase in the number of positive COVID-19 cases throughout New South Wales, including our Albury Wodonga and Central West communities.
This remains a challenging period of time, particularly for participants and their families / guardians, as we respond to this latest rise in cases due to the increased transmissibility of the reported Omicron variant.
My thanks to those who are making regular contact with nominated family members and guardians in light of this evolving situation, and your recognition and acknowledgement of their current feelings of concern, stress and worry during this time.
Mercy Connect continues to work closely with the NSW Department of Health and NDIA / NDIS Quality and Safeguarding Commission and will adopt further measures as recommended or advised, to maintain the health and wellbeing of our participants and staff.
Please be assured that since March 2020, and particularly over recent weeks, Mercy Connect has taken extensive steps and introduced strict protocols to reduce the risk to our participants and staff of COVID-19, in line with guidance from the Australian Government Department of Health and the NSW Department of Health. This includes, but is not limited to:
Enforcement of mandatory staff COVID-19 vaccinations, and encouragement of recommended COVID-19 booster(s) (until mandated).
Encouragement of participant COVID-19 vaccinations for those eligible and whose informed consent has been given (either personally or from their legal guardian).
Social distancing.
Full, forensic surface cleaning of all Mercy Connect properties and facilities.
Increased hand washing protocols, including extra signage, hand sanitiser units and reminders for staff.
Temporary transition of Day Program activities away from 'centre based' to 'at home' to reduce avoidable contact and group sizes.
Restricting on-site visitors at Mercy Connect properties and facilities.
Frequent reminders for staff to stay home if they feel unwell.
Ensuring staff have access to suitable Personal Protective Equipment (PPE) (including masks, face-shield, gloves and gowns) where required, which is necessary to reduce the risk of transmission.
Use of QR Code scanning at all Mercy Connect facilities and properties.
I know this is very concerning for all involved and want to assure you that we are taking every reasonable precaution to maintain the health and wellbeing of our participants and staff, and continue providing our participants with the highest standard of care.
Personal Protective Equipment and WHS 
Face Masks 
All Staff are required to wear full PPE (gloves, gown, mask, and face shields) in all accommodation settings (including Community Outreach staff).
Mercy Connect is currently awaiting an order of N95 grade face masks for staff use (where clinically indicated) and has secured, where possible, a limited amount for immediate use. However, until this latest order arrives, staff must continue wearing a surgical mask (in conjunction with any other required PPE, as necessary).
From my own past clinical experience, I know how hot and uncomfortable the additional PPE can be, particularly when you are required to wear it for the full duration of a shift. For this I am sorry, and please know that this additional requirement should only be required in the short-term i.e. until we are confident the current wave of COVID-19 cases has eased.
Heat 
Given the requirement to wear full PPE during the summer months, please take notice of any signs of heat stress or other heat illness. Signs include:
Heavy sweating.
Cold, pale and clammy skin.
Fast, weak pulse.
Nausea and vomiting.
Muscle cramps.
Tiredness and weakness.
Dizziness.
Headache.
In most cases, you can treat heat exhaustion early by doing the following:
Rest in a cool place.
Drink cool fluids (water is best).
Loosen clothing.
If you continue to feel hot and become unwell, please notify fellow staff and seek first aid treatment immediately and/or call an ambulance.
Infection Control 
In addition to existing infection control strategies, staff are requested to reduce the use of communal dining utensils (cutlery, cups, glasses plates etc) and bring their own to work.
While the use of crockery, cutlery and glassware poses a low risk of COVID-19 transmission, it is also strongly encouraged that participants are allocated their own utensils and do not share them. If this cannot be avoided, it is important that all items are washed adequately between uses.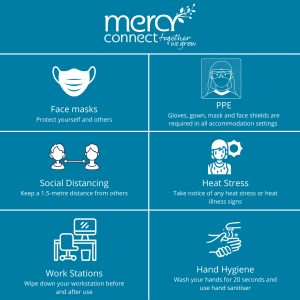 Communications 
A reminder to all staff of the Communications Policy, which states that all requests for interviews, comments and articles relating to Mercy Connect or the Disability Sector are to be referred to the Chief Executive Officer or delegated officer, which in this current situation will be Executive Leader – Operations, Felicity Lawes. No other employee or participant is authorised to provide comments, interviews or media content without the consent of the Chief Executive Officer or Executive Leader Operations. Staff are also reminded to maintain the confidentiality of participant / staff information, including their health status and test results.
Day Program 
All Mercy Connect Day Programs, across all sites, remain closed for two (2) weeks. A decision whether (or not) to recommence Day Program activities will be made at the end of the two-week closure. It is likely that all Day Program staff will continue to work a 10am-3pm shift from a shared / group home, instead of their usual place of work, or (where approved and appropriate) request to take annual leave during this time.
Accommodation 
Mercy Connect owned / managed homes remain closed to the public until further notice. This includes, but is not limited to, family members / carers, external contractors and suppliers. Exceptions to this directive will be at the discretion of the CEO Office and Executive Leader – Clinical Services.
Participants will not be permitted to attend any external Day Program facilities / activities during this time, with Day Program activities only to be offered within the Mercy Connect owned / operated home.
Corporate and Central West Offices 
Both Albury (St John's / Thurgoona) and Orange (Illamatta Way) offices are now closed to the public. This includes, but is not limited to, participants, family members / carers, external contractors and suppliers. Exceptions to this directive will be at the discretion of the CEO Office.
Corporate Office staff are advised to avoid attending external meetings and are instead strongly encouraged to utilise video / phone conferencing for such purposes, wherever possible.
Free Rapid Antigen Tests (RATs):  
Concessional access to RATs will commence on 24 January 2022, which will permit concession holders (including all eligible participants) to receive ten (10) RAT units, in total, over three (3) months with a maximum of five (5) a month. Participants (or with staff, where required) will need to attend their local pharmacy, present their relevant concession card, and then will receive their allocated RAT units. Please note these RAT units are only for participant use and they must not be utilised by staff.
Family Contact: 
Please note that families / guardians who may have queries, or are seeking an urgent response to an immediate matter, should only by contacting one nominated Mercy Connect Team Leader or Manager (i.e. contact should not be made with other Corporate Office / Administration staff). This will greatly assist everyone with managing such requests, so we can provide consistent responses without creating unnecessary duplication, or any additional confusion.
We remain hopeful that this current surge in cases will decline over the coming weeks, and I sincerely thank everyone for their compassionate support, hard work, and clear willingness to go 'above and beyond' during this time. I am also very grateful for those staff who are selflessly offering to provide support outside their usual duties and working hours.
Together we grow.
Trent Dean                                                               
Chief Executive Officer