This year we are pleased to announce the rebrand of the Mercy Connect Annual Dinner Dance to 'Dancing with our Stars'. This event will be held online on Friday, June 24th 2022 with Steve Bowen as the Emcee of the event. Hosting the event this way will enable you to celebrate and enjoy the event in your own home. All staff are encouraged to join in on the night where possible.
Thank you to all those who have already RSVPd.
RSVP's are essential so that we can make sure you receive a link. If you haven't already please RSVP by June 20th by sending an email to Harrison.Heath@mercyconnect.org.au or call 02 6043 3500.You will be sent a link in the week leading up to the event.
Make sure you send your song requests through when you RSVP so they can be preloaded and ready on the night!
Don't miss this chance to dance!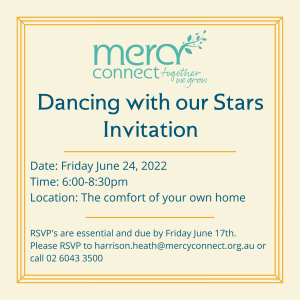 Together we grow.
Jessie Arney 
Executive Leader People & Communication