Today, we celebrate Mercy Day, The Feast of Our Lady of Mercy, which is an anniversary of the opening of the first 'House of Mercy' in Ireland by the Venerable Catherine McAuley on 24 September 1827.
It gives me great pleasure to be able to communicate and reach out to all staff, participants, families and guardians through this video that has been prepared to celebrate Mercy Day (click here to view).
As we celebrate Mercy Day, it is also an opportunity to look at new initiatives that Mercy Connect has been working towards throughout the year. Our Strategic Plan 2021-2023 is now in its final year, and we continue to address the following Strategic Priority Areas: Capability; Innovation; and, Growth. To date, Mercy Connect has already achieved many of the desired outcomes and strategic goals.
Our Annual Report 2021-2022 is an important document which not only keeps our stakeholders informed of the activities and opportunities Mercy Connect delivers, it also builds confidence and strengthens our reputation as a long-standing provider of disability services. It is a showcase of all the great achievements that our staff and participants have made during the past year. This year's Annual Report can be downloaded here.
At this time, I am proud to announce this year's recipient of the Mercy Day Award. This is awarded to an employee who has demonstrated outstanding performance and dedicated service to the participants of Mercy Connect. For the Mercy Day Shining Lamp Award 2022, I would like to congratulate our worthy recipient, Kylie Orell.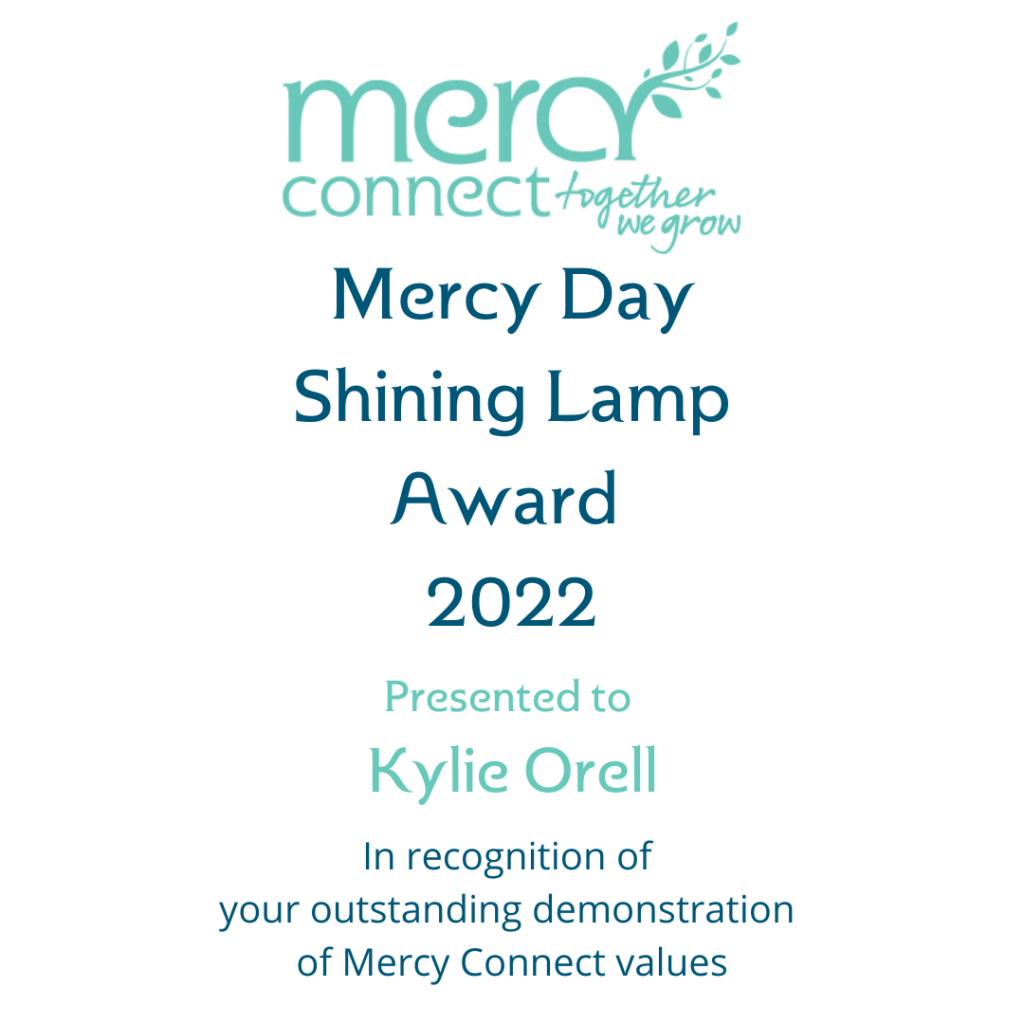 The Sister Scholastica Scholarship is a way for us to remember the wonderful legacy of Sister Scholastica (Sr Schol). As Saint Scholastica is the patron saint of education, we felt this was a very fitting way to recognise the very good work of Sr Schol. This inaugural scholarship, now in its second year has been awarded Addison Chapman from Orange High School, who has demonstrated not only leadership among her peers, but also represents her school proudly in the sporting community. This scholarship will assist Addison in her final years of high school to achieve her goal of attending university to become a specialised paediatric or critical care nurse.
Finally, I would like to thank all of our amazing and hardworking staff who share the ongoing vision of Mercy. We all have overcome many challenges in the past year, and yet I am proud to see that our organisation continues to work collaboratively to achieve our goals and mission, which enables each participant we support to live a connected and meaningful life.
Together we grow.
Trent Dean
Chief Executive Officer